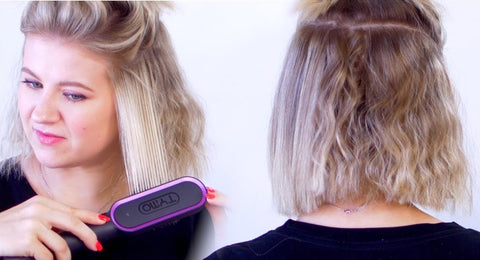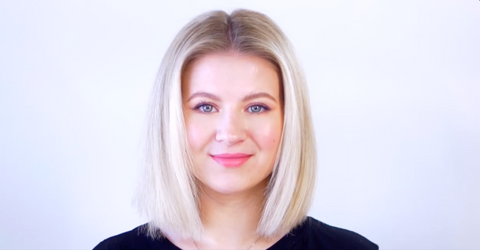 Beauty guide #milabu  has been trying out our product on Youtube with her friend Macy alongside to compare and contrast with the alternatives out there.
The vid is a fun spin around ways to get quick results from TYMO market-leading straightening brush, the ultra-practical and affordable RING.
How do things go for the girls when they try out TYMO? Positively, is the short answer. We were thrilled when we heard the enthusiastic feedback and watched the trial session.
So what went down?
Macy has long, thick, curly brown-auburn hair with ends that might need a trim (according to Macy herself) – she gets going with TYMO RING on full heat (410 degrees).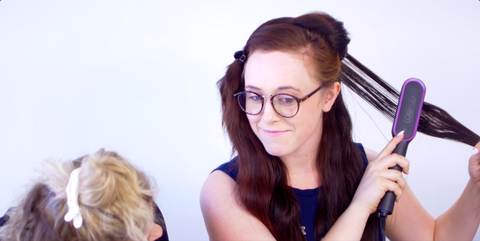 Straightaway the results speak for themselves, with the first pass of the straightening brush leaving a smooth finish. "I didn't have to put as much tension on it as the other one," Macy says.  "It slides through pretty easily… it is very smooth compared to the other one."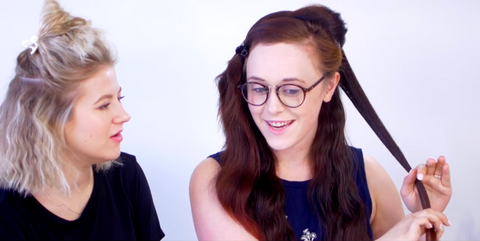 Milabu has shorter, blonde, shoulder-length hair with some curls and frizz – on a lower heat (338) she still finds the RING temperature strong. Once again, a single brush pass gives results that look "like I put a hair straightener on my hair… This is literally competing against flat irons – and I don't say that lightly!"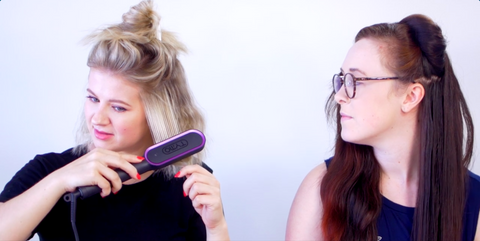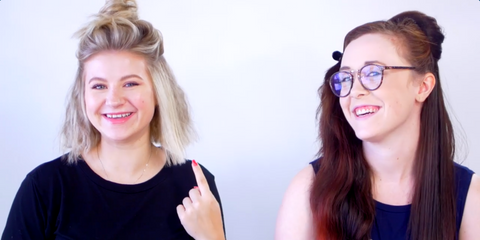 This rapid test of TYMO gave the best of results, reproducing the expertise of a salon hairdresser or drawn-out session with a flat iron. In just a few minutes you may find a host of reasons to invest in TYMO RING, as well as pointers from beauty queens to put straight into your pocket for future reference.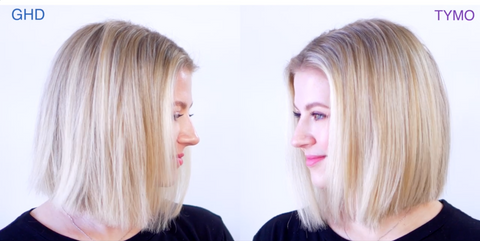 Here are our takeaways from #milabu's video review:
1.TYMO RING is HOT
Make sure you take some time to select the right heat setting that will suit your hair.
 Dry your hair gently and sufficiently before you straighten it (blowdrying is best if your hair is very curly, air dry for wavy or straight hair – for TYMO, your don't have to have completely dry hair either, but you will definitely need to get it ready for a hot and heavy experience!).
 Pull your hair firmly but not too hard, bringing the brush away from the roots and taking care not to burn your ears or anywhere else!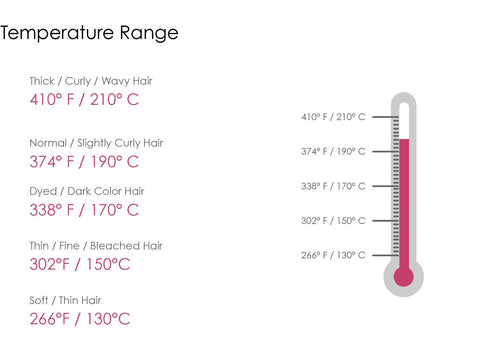 NOTE: whenever you get busy with your getting-ready routine, you don't need to worry about this brush overheating or lying around at full temperature – together with the anti-burning shell and a heat resistant protective plate, the 'Anti-Scald' function built into TYMO RING means that the brush goes directly into sleep mode when not in use. Safety sorted – you can focus on finishing your look to perfection.
2.YOU SHOULD BE COOL – meaning PATIENT
Use a smooth, consistent motion to straighten, straightening from the roots to the end, just like Milabu and Macy. Milabu notes that holding and combing with the TYMO RING from underneath works best for her.  The fine 'teeth' plates of the TYMO brush work like a comb, helping to get close to the roots of the hair and start the straightening motion right at the best point. Remember not to hurry yourself or be tempted to straighten only the ends or from the mid-point of the strands.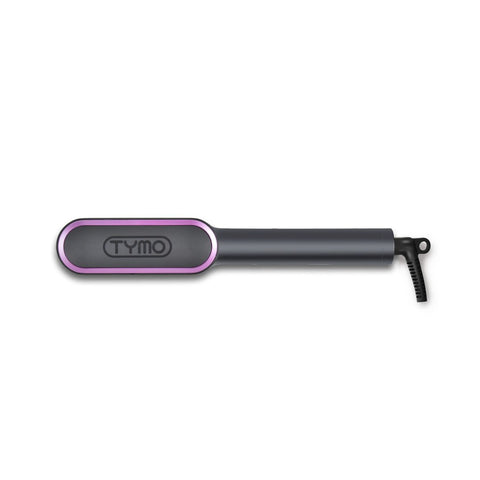 3.The DESIGN HELPS a LOT for FINISHING TOUCHES
Milabu and Macy both work smoothly through their whole tresses with a slight twist, straightening and adding a pleasing, face-framing scoop at the end. Noting the wave-shape built into the heated plates, Milabu adds that she thought this might "tug on the hair more"; instead they are treated to "Instantaneous results."
 "It's phenomenal… what takes this up a notch is how smooth it is and how fast the results are."
 This is where a lot of hard work by our design team comes through. TYMO RING includes patented chips and plates with 3D heat distribution – gathering hairs and heating them evenly, making a smooth unified style. As tested and confirmed by our two experts here.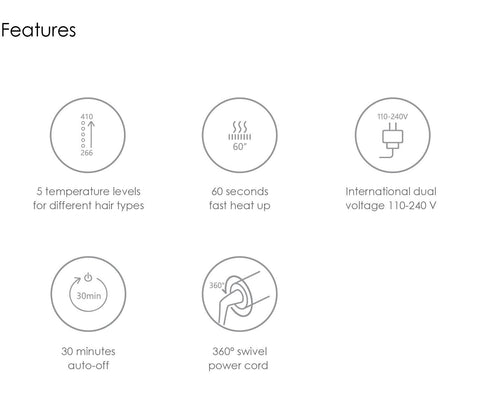 4.TYMO RING is EXCELLENT VALUE
Our influencer friend calls it like she sees it – and we have to agree. Like all TYMO offerings, RING is created to be highly competitive in the price category. At 45-50$ on Amazon, the deal that gives you the chance to reproduce the "instantaneous results" Milabu confirms on her channel actually includes an entire hair beauty kit, including a straightening brush, heat glove and clips to let you get to work immediately.
There we have it – you can be sure that an influencer like Milabu will deliver an honest low-down for her audience. Otherwise,  have so many happy subscribers! Watching dedicated fashion reviewers is a great method to find your way to the best gear available. And to use it properly when you get your hands on it!